How to Make Mic Not Pick Up Background Noise? Making your microphone not pick up background noise is possible with a few simple steps. First, make sure the microphone is properly connected to the computer and that all cables are in good condition. Second, adjust the audio settings on your computer by going into Settings > Sound > Recording Devices.

From there you can adjust the input volume level, as well as enable features like noise cancellation or sound isolation which will help reduce ambient noise from being picked up by the mic. Third, purchase an external USB microphone if needed—these typically have better built-in technology for reducing background noises than standard integrated microphones do. Finally, if you're using a headset or other headphones with a built-in mic, make sure they fit snugly around your ears so outside sounds don't leak in and get picked up during recording sessions.

Following these steps should significantly reduce unwanted background noises while recording audio with your mic!
Move closer to the mic: The further away you are from the microphone, the more background noise it will pick up. Moving your mouth closer to the microphone should help reduce any ambient sound that gets picked up by it
Use a pop filter: A pop filter is a mesh screen that goes over your microphone and helps prevent plosive sounds (like 'p' and 'b') from being too loud in your recordings, as well as reducing any other unwanted noises like breathing or rustling clothes
Turn off nearby appliances: Appliances like air conditioners, fans, computers and other machines can produce a lot of background noise when they're on – so make sure to turn them all off before recording! This will help keep any potential interference out of your recordings
Set up acoustic treatment: Acoustic treatment is an effective way to absorb excess reverberation in a room and reduce echoes – which can also lead to unwanted background noise in recordings if left unchecked! Setting up some basic acoustic panels or foam tiles around the area where you record can help dampen these reverberations and make sure only what comes through the mic gets recorded properly!
How to Reduce Background Noise on Headset Mic
Using a good quality headset with noise reduction technology is one of the best ways to reduce background noise on your mic. Many headsets come equipped with built-in features that help cancel out any unwanted sounds, such as wind or ambient noises. Additionally, using acoustic foam and soundproofing materials can also be very effective in reducing background noise.

By taking advantage of these technologies, you can ensure that your voice comes through loud and clear without any extra distractions!
How to Reduce Background Noise on Mic Android
To reduce background noise on your Android's mic, you can use a variety of different methods. First, make sure that the environment is quiet by turning off any nearby electronics and appliances. If possible, move to a quieter room or space with less outside noise interference.

You can also try using an external microphone for better sound quality and reduced background noise. Additionally, some smartphones offer an in-app equalizer that allows you to adjust the level of ambient sound according to your preferences. Finally, it's important to keep your device clean from dust and dirt as these particles can inhibit sound quality if not regularly maintained.
How to Reduce Background Noise in Laptop Microphone
In order to reduce background noise in a laptop microphone, one of the most effective solutions is to purchase a headset with a built-in noise-canceling feature. Headsets come in many varieties and price points, so it's important to find one that fits your budget and suits your needs. Additionally, if possible, try to record audio in an environment where there is less external sound (such as an office or bedroom).

Lastly, make sure you have software installed on your computer that can help filter out background noise from recordings.
Microphone Picking Up Background Noise But Not Voice!
How to Separate Voice from Background Noise? Having a microphone pick up background noise but not your voice can be incredibly frustrating. This common issue is usually caused by the microphone's proximity to other sound sources, such as speakers or fans, as well as from poor gain staging and level settings. To combat this problem, make sure that you have adequate distance between your mic and any other electronics in the room and set appropriate levels so that only your voice is being picked up.

Additionally, using a pop filter or foam windscreen can help reduce some of the background noise while still capturing clear audio recordings of your voice.
Reduce Background Noise Microphone Windows 11
Using Windows 11, you can reduce background noise in your microphone recordings. To do this, open the Settings app and go to System > Sound > Input. On the right side of the window, select your microphone device from the drop-down menu and click on Properties.

You will see an Advanced tab where you can adjust sliders for Noise Suppression and Acoustic Echo Cancellation to reduce background noise.
Reduce Background Noise Microphone Windows 10
If you're looking to reduce background noise on your microphone when using Windows 10, there are a-few steps you can take. Firstly, make sure that the microphone is placed in an area with minimal ambient noise and move it away from potential sources of interference (such as computer fans or air conditioners). Secondly, adjust the sound settings in Windows 10 to ensure that all unnecessary audio enhancements are disabled.

Lastly, try out some free software such as Audacity which can help filter out background noise while recording. With these simple steps you should be able to drastically reduce any unwanted background noises from your microphone recordings!
How to Reduce Background Noise on Mic Obs
To reduce background noise on your mic obs, start by making sure the microphone is placed in an area that's free of external noises like traffic or other people. You can also use a pop filter or foam windscreen to minimize air flow and any popping sounds. Additionally, you can try software noise reduction tools such as Audacity to help remove ambient sounds from your recording.

Finally, consider using an audio interface with built-in preamps and low-noise circuits for improved sound quality.
Mic Picking Up Background Noise Discord
If you're using the Discord app and your mic is picking up a lot of background noise, this could be due to several factors. First, make sure that you are in an area with minimal background noise when using your microphone. Additionally, try adjusting the input levels on both your computer and Discord settings so that it doesn't pick up too much ambient sound.

Finally, consider investing in a better quality mic if possible as this can help reduce unwanted echoes or background noise from interfering with your audio recordings.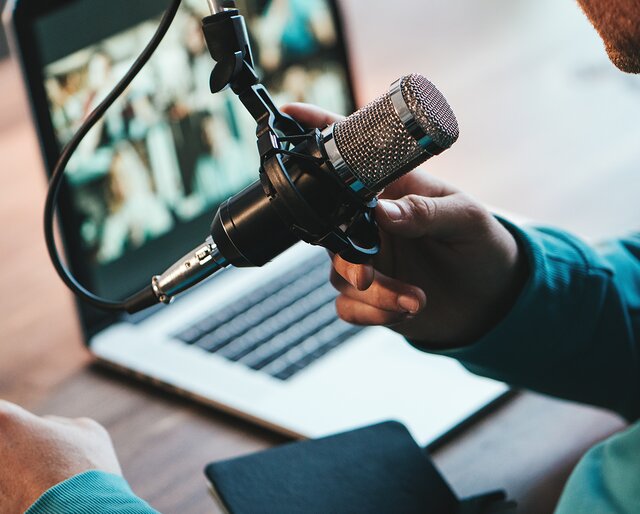 Credit: krisp.ai
How to Stop Mic from Picking Up Background Noise While Streaming?
If you're a streamer, one of the most frustrating things can be dealing with background noise that your mic picks up. This might include noises from other people in your house, traffic outside, or any number of distractions. To ensure that your audience receives only the best sound quality and doesn't have to listen to background noise while streaming, here are some tips for reducing it:

First off, make sure your microphone is positioned correctly; try not to have it facing directly towards noisy areas as this will cause more sound interference. Investing in a good-quality mic can also help reduce ambient noise levels significantly. You should also consider using filters on your audio gear such as pop filters and windscreens which will help block out unwanted sounds from entering into the microphone's diaphragm area.

Additionally, if possible close all windows and doors where possible when streaming so external noises cannot enter into the space you're broadcasting from – this includes closing curtains too!
How Do I Make My Mic Not Pick Up Other Voices?
If you're recording audio and your microphone is picking up other voices from around the room, it can be really frustrating. Fortunately, there are a-few steps you can take to reduce or eliminate this problem. First, make sure you have a good quality microphone that is properly positioned in relation to the speaker of interest.

For example, if you're trying to record someone speaking at their desk, place the mic as close to them as possible without causing any interference with their movement or comfort level. You should also look into using directional microphones which are designed to pick up sound from one direction only and reject all other noise sources. Additionally, acoustic foam panels work great for absorbing ambient sound waves; they're relatively affordable and easy-to-install making them an ideal solution for most scenarios.

Finally, if all else fails consider investing in some noise cancellation software which will help filter out any unwanted background noises when recording audio files on your computer system. With these tips in mind hopefully you'll be able to make your recordings sound crystal clear!
How Do I Make My Headset Pick Up Less Background Noise?
If you're looking for ways to reduce background noise when using a headset, there are several things you can do. First off, it's important to have the right type of headset for your needs. If possible, try and buy a headset that features active noise cancellation technology – this will actively block out background noise by 'listening' to what's going on around you and creating an anti-noise signal that cancels out the sound waves from other sources.

It's also worth checking if your headset has any adjustable settings or filters built in which may help cut down on how much of the external environment is picked up. Secondly, ensure that your microphone is correctly positioned so its close enough to pick up your voice without being too close (as this could create feedback). Additionally, make sure that all cables are securely connected at both ends and not loose or tangled – as this could introduce static or other unwanted noises into the mix.

Finally, try investing in some acoustic foam panels or diffusers which can be used to dampen sound levels within a room; these products absorb echoes and reverberations which can otherwise add undesirable sounds during recording sessions with a headset mic.
How Do I Make My Mic Pick Up Less Background Noise Discord?
There are a few things you can do to make your microphone pick up less background noise in Discord. First, it's important to ensure that the microphone is correctly positioned. Placing the mic closer to your mouth will help reduce any ambient sounds from entering the signal and being picked up by the mic.

You should also try using some type of pop filter or foam cover over your mic as this will also help block out any distracting noises from entering into the recording. Additionally, disabling all other audio devices such as speakers or headphones can help further reduce background noise, since these devices may be causing interference with your microphone's signal. Finally, if nothing else seems to work, check for settings within Discord itself which allow you to adjust input sensitivity levels so that only desired sound sources are captured by your mic.

With careful positioning and adjustment of settings, you should be able to significantly reduce background noise when using Discord.
How to Make a Microphone Not Pick Up Background Noise, Popping or Sounds From Keyboard/Mouse – 2023
Conclusion
In conclusion, making sure your mic doesn't pick up background noise can be a difficult task but it's not impossible. By following the steps laid out in this article, you should now have a good understanding of how to go about reducing any unwanted background noise. Employing the right techniques and taking the time to test out different settings can help make sure that your audio is as clear and professional as possible.