Music video loops enable musicians to create engaging visual content, that repeats for the entirety of a song, without the need for a full-length music video. With the rise of digital content, music artists are increasingly using platforms such as youtube, instagram, and tiktok to connect with fans through visual storytelling.
Music video loops offer a cost-effective way of engaging with fans while also promoting a song. Video loops are easy to create and can be used in various mediums, such as on social media or in live performances. By using video loops, artists can immerse their fans in their music without the additional cost and time needed for a full music video. Additionally, repetitive visuals have the potential to become iconic for a particular song, further increasing engagement with fans.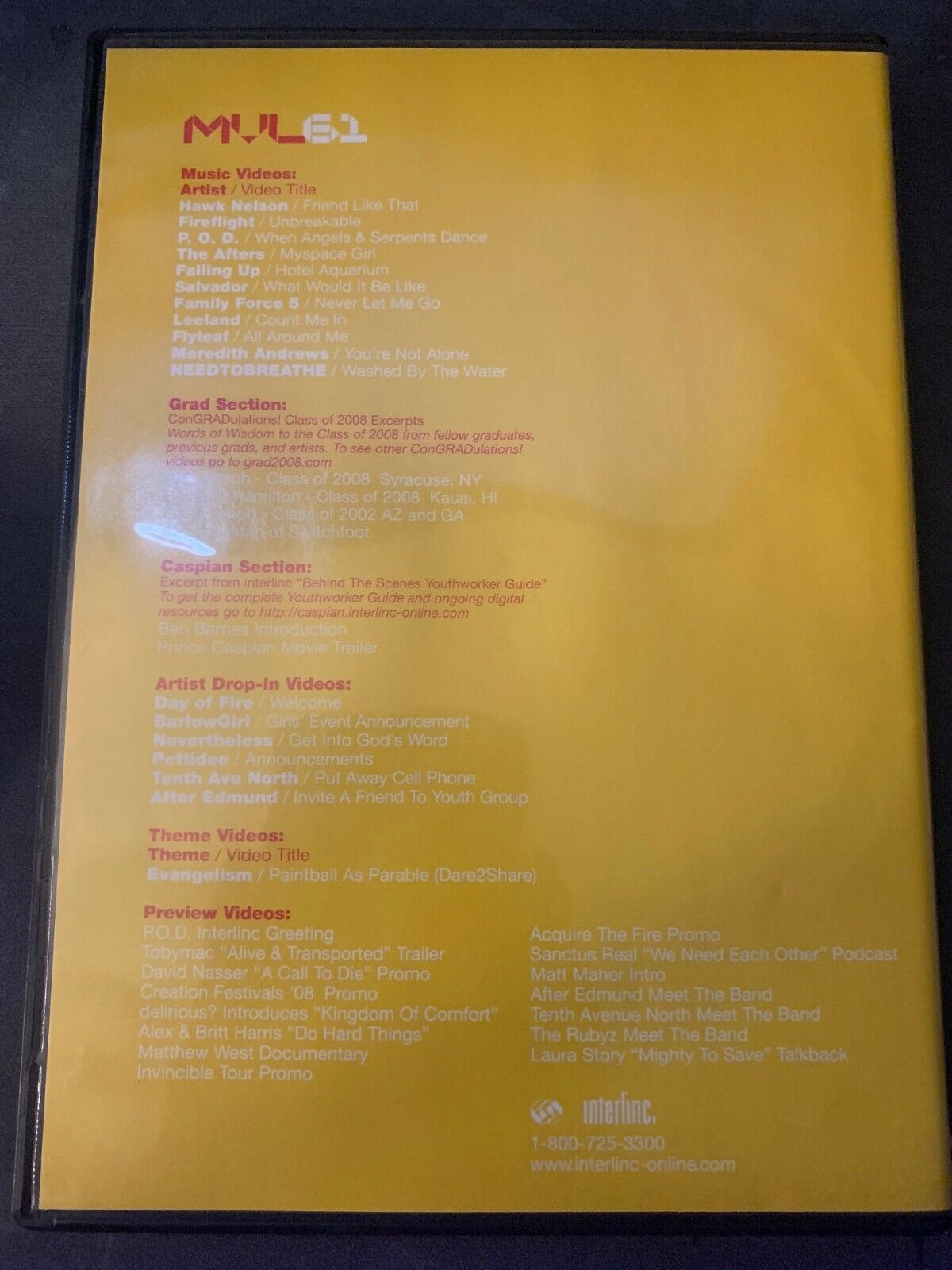 Credit: www.ebay.com
Benefits Of Using Music Video Loops
Music videos have become a vital part of modern music culture, serving not only as a way to entertain audiences but also as a tool for musicians in building their brand. As such, music video production has become an industry in its own right, with many innovative techniques and creative options to explore.
One of the most recent additions is the use of music video loops, which has gained popularity in recent years due to the benefits it offers. In this blog post, we explore the benefits of using music video loops and why music producers and musicians should consider incorporating them into their video production process.
Enhances The Visual Appeal Of Music Videos
Music video loops provide an excellent way to enhance a music video's visual appeal. With their repetitive nature, they can create a mesmerizing and hypnotic effect that draws viewers' attention to the video's main elements, such as the performer, dancers, or visual effects.
This technique is particularly effective in dance and electronic music videos, where the repetitive beat of the music can be accentuated by the use of loops. Moreover, music video loops can be synchronized with light effects, creating a cohesive and visually stunning overall experience that is both memorable and immersive.
Provides Cost-Effective Solutions To Filming Music Videos
Music video production can be a costly and time-consuming affair. With traditional filming techniques, music producers and musicians need to book a studio, hire equipment and personnel and pay for post-production editing. However, using music video loops is a cost-effective way of creating music videos without compromising on quality.
Music video loops can be easily customized, and with the right equipment such as a green screen, musicians can easily create music videos without the need for a studio or a large crew size. This not only saves time and money but allows them to be more creative and experimental with their videos.
Offers Creative Options For Music Producers And Musicians
Music video loops offer a wide range of creative options for music producers and musicians. Loops come in various forms, including video clips, animations, and motion graphics, and can be customized to fit any music genre. This flexibility allows music producers and musicians to create unique music videos that are both visually stunning and artistically expressive.
Moreover, since loops are repetitive, they offer ample opportunities for experimentation and improvisation with different visual elements. This allows music producers and musicians to showcase their creativity and originality in new and exciting ways that engage their audience.
Allows For Quick Turnarounds In Creating Music Videos
Music video production can be a time-consuming process, with many tasks and stages involved, such as planning, shooting, editing, and post-production. However, using music video loops can significantly reduce the time required to create music videos. With pre-made loops, music producers and musicians can easily add their music to the loop, saving them time and effort in planning and executing every aspect of the video.
This allows for quick turnarounds in creating music videos, making it easier for musicians to release their music at a faster pace, keeping their fans interested and engaged.
Music video loops provide unique and innovative options for musicians and music producers in creating visually appealing and creative music videos. With their cost-effective solutions, and time-saving capabilities, music video loops are an excellent tool for any musician looking to expand their brand and connect with their audience in an innovative and exciting way.
Popular Types Of Music Video Loops
Music videos are an essential component of the music industry, and in this digital age, music video loops have become even more important. A music video loop is a short segment of a music video that repeats itself seamlessly for a few seconds.
There are different types of music video loops, and in this section, we will explore some of the popular ones.
Animated Music Video Loops
Animated music video loops are created using various animation techniques and are ideal for songs that are upbeat and dynamic. Some popular animation techniques used to create animated music video loops include 2d hand-drawn animations, stop motion, and 3d computer graphics.
They are perfect for creating a fun and playful atmosphere for the viewer
They can be used to create different visual effects and styles unique to the song's genre
They allow for total control of the video's environment, characters, and visual effects to create surreal experiences
Live-Action/Footage-Based Music Video Loops
Live-action/footage-based music video loops rely on real-life footage, choreography, and editing to create a seamless loop. They are often used for songs that require a realistic representation of the artist or band's performance.
They are excellent for creating a connection between the artist and the viewer
They can be filmed in various locations to fit the style and theme of the song
They require significant effort in choreography, filming, and editing to create a seamless loop
3D Music Video Loops
3d music video loops are created using computer-generated imagery and are ideal for songs that require a futuristic and sci-fi atmosphere.
They allow for manipulating and animating virtual 3d objects and sceneries to create visually stunning experiences
They require a considerable amount of rendering time to achieve high-quality visuals
They require specialized software and skills in 3d modeling, texturing, and animation
Virtual Reality Music Video Loops
Virtual reality music video loops are relatively new in the industry and offer a unique immersive experience for the viewer. They require vr headsets, and the viewer can interact with the virtual environment and objects.
They provide a new dimension of immersion in the video and audio experience
They require specialized software and skills to create unique and interactive virtual environments
They are compatible with different vr headsets.
Each type of music video loop has its own unique style, advantages, and disadvantages. Understanding the different types can help artists and video producers choose the best format that fits their song's genre, theme, and budget.
Ultimate Guide to FRAME RATES for CINEMATIC VIDEO – When to use 24, 25, 30, 50, 60, 100, 120 FPS?
How To Use Music Video Loops To Enhance Your Video Production
Are you looking for ways to enhance your video production with music video loops? Music video loops can be an excellent tool to help take your videos to the next level, but it's crucial to choose and use them effectively.
In this blog post, we'll cover how to identify the right type of loop for your video, tips for incorporating them seamlessly, and best practices for choosing and using music video loops.
Identifying The Right Type Of Loop For Your Video
Choosing the right type of music video loop for your video is essential to create a cohesive and engaging piece.
Consider the mood: identify the mood and tone you want to convey through your video. Choose a loop that complements these emotions.
Think about the length: make sure the length of the loop you choose matches the duration of your video. A long loop can make the content repetitive, while a short loop may not be enough to create the desired impact.
Be aware of copyright: make sure the loop you use is copyright-free or has proper licensing to avoid facing any legal action.
Tips To Incorporate Music Video Loops Seamlessly Into Your Video
Once you've identified the right type of music video loop, incorporating it effectively into your video is essential to create a seamless and polished final product.
Use transitions: use smooth transitions, such as fade-ins and fade-outs, to merge the loops with the clip effectively.
Adjust the volume: make sure the volume levels of your video clip and the music video loop match. If the loop is too loud, it can overpower the video clip's audio, making it challenging to understand the content.
Sync the loop to your video clip: match up the music video loop to the pace of your video clip. This synchronicity will make the loop feel like a natural part of the video and not a forced element.
Best Practices For Choosing And Using Music Video Loops
While music video loops can enhance your video content, they can also make or break it.
Avoid visual distractions: choose a loop that isn't visually distracting. These distractions can divert viewers' attention from the primary focus of the video.
Ensure loop relevance: ensure that the loop is relevant to the video's content. If it doesn't make sense, it can seem like it's there for the sake of it, rather than being a pertinent factor.
Use proper tools: use video editing software with looping capabilities to create a seamless loop effectively.
Incorporating music video loops into your video can help create a cohesive, polished, and engaging production. Keep these tips and best practices in mind to make the most of music video loops when producing your next video.
Choosing The Right Music Video Loop Service Provider
Music video loops have become increasingly popular in recent years, with businesses and individuals alike looking to add a dynamic visual element to their online content. However, with so many service providers out there, it can be challenging to know which one to choose.
In this article, we will discuss some essential factors to consider before selecting your music video loop service provider, popular options available, and reviews and recommendations to help you make an informed decision.
Factors To Consider When Selecting Your Music Video Loop Provider
The following are some key points to keep in mind when choosing a music video loop provider:
Quality: the quality of the service provider's videos is essential. Ensure that the videos are high resolution, and the visuals and sound are synchronized.
Customization options: look for a provider that offers customization options such as adding text or logos to their videos to make them match your brand.
License terms: check the license terms before purchasing any video loops. Make sure you have the right to use the videos as you intend.
Pricing: look for a budget-friendly provider that offers a wide range of package options so that you can choose the one that fits your needs and budget.
Support: choose a provider that offers excellent customer support- either via chat, phone or email
Popular Options For Music Video Loop Service Providers
With the increasing demand for music video loops, many service providers have emerged to meet this need.
Videoblocks
Motion array
Storyblocks
Envato elements
Placeit
Reviews And Recommendations For Music Video Loop Service Providers
Before choosing a music video loop provider, it's essential to look at reviews and recommendations from previous customers.
Trustpilot
Google reviews
Sitejabber
Choosing the right music video loop service provider is crucial for creating high-quality and engaging video content. Keep in mind the factors we have discussed, consider popular options, and read reviews and recommendations before making a purchase.
Frequently Asked Questions On Music Video Loops
What Are Music Video Loops?
Music video loops are video clips that repeatedly play a particular segment of a music video, creating a continuous loop of the same visuals.
How Long Are Music Video Loops?
Music video loops can be any length, but the most common length is a 1-minute loop. However, loops can be as short or long as needed.
Why Are Music Video Loops Useful?
Music video loops are useful for djs, vjs, and event organizers who want to create a visually engaging experience that matches the music.
Can I Use Music Video Loops On My Social Media Channels?
Yes, you can use music video loops on your social media channels, but make sure you have the proper licensing rights from the copyright holder.
Conclusion
In today's era of online content, music video loops are a valuable resource for any content creator. They are easy to use, aesthetically pleasing, and perfect for keeping viewers engaged. With an abundance of high-quality video loops available at low prices or even for free, it's never been easier to incorporate them into your project.
By cutting down on production time and providing visual appeal, loops offer a distinct advantage to content creators in any industry. With their popularity on the rise, it's important for businesses and marketing professionals to stay on top of current trends.
Utilizing music video loops can ensure that your content stands out in an ever-evolving digital landscape. So don't miss out on the benefits that come with using music video loops, and start incorporating them into your content today.