If you're anything like me, you have a hard time throwing anything away. That's why compilation videos are the perfect way to hold on to all those memories without taking up any physical space. Plus, they make for great entertainment when you're feeling nostalgic or just want to relive some good times.

Here's how to create your own compilation video: First, gather all of the footage you want to include in your video. This can be from your personal collection of home movies or from other sources like TV shows, movies, and online videos.

Once you have everything gathered, it's time to start putting your video together.
Decide on the purpose of your compilation video
Are you trying to showcase your work, promote a cause, or simply create a fun montage of memories? 2
Choose your footage
This can be either video you have shot yourself or found online
If you are using someone else's footage, be sure to get permission first
Edit your footage together in a video editing program like Adobe Premiere or Final Cut Pro
Add any titles, music, or other effects that you want to include
Export your finished video and share it with the world!
How to Make Compilation Videos
How Do You Make a Tiktok Compilation Video?
There's no one-size-fits-all answer to this question, as the best way to make a TikTok compilation video will vary depending on what type of compilation you're looking to create. However, there are some general tips and tricks that can help you put together an impressive TikTok compilation video, no matter what your vision may be. To start, it's important to choose a theme for your compilation video.

This could be anything from your favorite TikToks of the week to clips of you and your friends lip syncing to popular songs. Once you have a theme in mind, begin collecting the videos you want to include in your compilation. If you're not sure how to save videos from TikTok, simply click the share button on each clip and select "Save Video."

Once you have all of the videos you want to use saved, it's time to start putting your compilation together. If you're using a desktop computer, we recommend using a video editing program like iMovie or Windows Movie Maker. Both programs are fairly user-friendly and will allow you to easily add transitions between clips, overlay music, and more.

If you're editing your compilation on your phone, there are several apps available that can help with the task, such as Splice or Quik. Once your TikTok compilation is complete, it's time to share it with the world! Make sure to post it on both TikTok and any other social media platforms you use so that all of your friends can enjoy watching it.
Can I Make Compilation Videos on Youtube?
Yes, you can make compilation videos on YouTube. However, there are a few things to keep in mind. First, all of the video clips that you use must be your own work or have been given permission by the copyright holder for you to use them.

Additionally, your video must provide some sort of commentary or value-add on top of the clips themselves – simply stringing together a bunch of unrelated videos is not enough. Finally, keep in mind that YouTube's algorithms will likely flag your video as being potentially low-quality if it is nothing but a compilation of other people's content. So while you can certainly make these types of videos, it's important to put some thought into them if you want them to be successful.
How Do You Make a Compilation of Pictures And Videos?
A compilation of pictures and videos can be made in a number of ways, depending on what software you are using and what format you want the final product to be in. One way to make a compilation is to use a video editing program such as iMovie or Windows Movie Maker. These programs allow you to import both photos and videos, and then arrange them in whatever order you like.

You can also add titles, music, and other effects. Another way to make a compilation is to create a slideshow using photo editing software such as Photoshop or GIMP. This involves creating individual images for each frame of the slideshow, which can then be exported as a video file.
How Do I Make a Video With Lots of Clips?
Assuming you would like tips on how to make an engaging video with many clips, here are a few things to keep in mind: -Create a storyboard or treatment prior to filming or collecting any footage. This will help you determine what kind of clips you need and what order they should go in.

-Try to avoid using too many different clip sources. It can be visually jarring for viewers if there are too many changes in quality or style throughout the video. -When editing, focus on creating a seamless flow between each clip so that the transitions don't feel abrupt.

This can be done by matching up audio cues, using similar visual elements, or cutting on action. -Make sure that the overall length of the video is appropriate for the content being presented. A good rule of thumb is to keep videos under 5 minutes when possible.

-Add graphics, text overlays, or other supplemental visuals to help break up longer sections of footage and provide additional information for viewers. -Include captions or subtitles if your video contains dialogue so that viewers who are watching without sound can still follow along.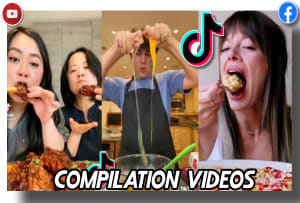 Credit: www.fiverr.com
Conclusion
A compilation video is a great way to remember a special event or trip. To create a compilation video, start by gathering all of the videos and photos you want to include. Next, use a video editing software to put everything together.

Start by adding a title screen and then add your videos and photos in the order you want them to appear. Finally, add music to your video and export it to share with friends and family!